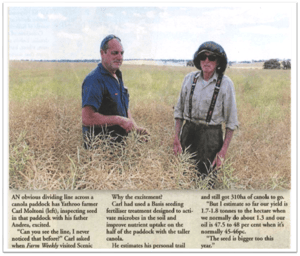 In two recent Farm Weekly articles (part 1, part 2), farmers Andrea and Carl Moltoni describe their success using Basis on their Yathroo, WA farm. The father and son point out the dividing line in their paddock caused by the shadow of taller canola where they applied Basis-treated granular fertiliser.
Carl notes that both their canola yield and oil content are higher than average this season, with seed also bigger. His father, Andrea, who has farmed for over 50 years, says that this is the best season he has ever seen. At harvest, a gain of about $60 a hectare across last season's canola and wheat crops has Carl contemplating using Basis as a seeding fertiliser treatment again.
"It definitely made a difference, the crops where we treated the fertiliser were first out of the ground, they got away better, definitely," said Carl.
You can read more about how our Basis fertiliser biocatalyst is playing a key role in the success of these farmers in the articles "Tall canola casts shadow" and "Fertiliser results speak for themselves," both available on the Farm Weekly website.
Basis XC is specifically formulated for use with granular fertilisers. It contains concentrated biochemistry that lets growers get more out of their applied granular fertilisers by increasing nutrient availability and promoting root growth and development. Treating granular fertiliser with Basis can increase the availability of applied nutrients, which can lead to:
More efficient utilisation of macronutrients and micronutrients in compound fertilisers
Improved seedling vigour, leading to more even crop establishment
Increased early biomass & dry matter
Improved crop yield potential
Basis is exclusively available from Loveland Agri Products/Nutrien Ag Solutions and CRT stores.
Learn more about Basis by accessing our Basis product booklet.