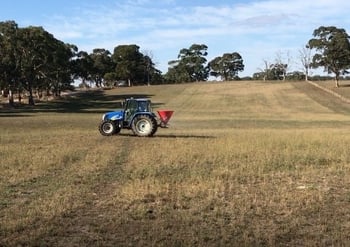 In 2017, several trials were conducted to evaluate Basis XC on pastures fertilised with single superphosphate (SSP) and diammonium phosphate (DAP). The results show a positive impact on dry matter yield when the fertiliser is treated with Basis XC. Two trials are highlighted below.


Basis XC with SSP in Littlehampton, SA
In a pasture trial conducted with input from Nutrien Ag Solutions Murray Bridge in the Adelaide Hills, South Australia, SSP treated with Basis XC (applied at 2L/tonne onto the fertiliser) was compared to untreated SSP across an existing, one-year old paddock containing four grass species. The treated and untreated fertiliser was applied at a rate of 130kg/ha down the allocated strips at the start of the season.
In the trial, strips of pasture sown with Basis XC-treated SSP had larger roots and produced 535.2 kg more dry matter per hectare, overall, compared to strips sown with untreated SSP. Furthermore, the cost of producing 1 tonne of dry matter fell by approximately $10/tonne when Basis XC was utilised.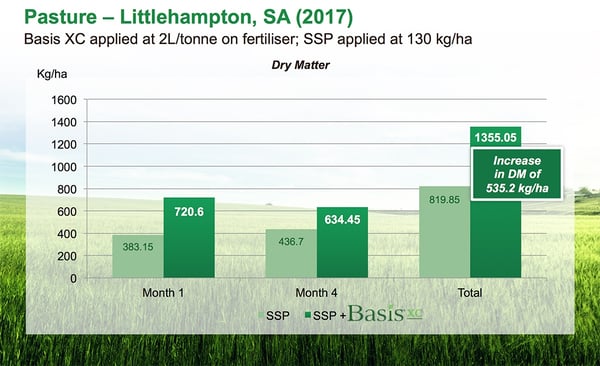 Summary: Treating SSP fertiliser with Basis XC was cost effective and led to better pasture growth compared to the untreated SSP area, including improved root development and increased dry matter.
Basis XC with DAP in South Gippsland, VIC
Independent trial work performed by Pasture First Research in South Gippsland, VIC, shows that Basis XC is also effective on DAP fertiliser when sown under a new pasture. The trial compared pasture growth and quality over two cuts, which were taken 6 June and 2 August 2017. The treatments evaluated were a nil control, DAP, and DAP treated with Basis XC. Each treatment was replicated three times.
Dry matter production was highest with Basis XC-treated DAP compared to both DAP alone and the nil control, achieving statistical significance both with the first measurement and for total dry matter grown over the two rotations (P < 0.05). Overall, total dry matter production with Basis XC-treated DAP was 264.7 kg/ha higher compared to DAP alone, and 642 kg/ha higher compared to the nil control.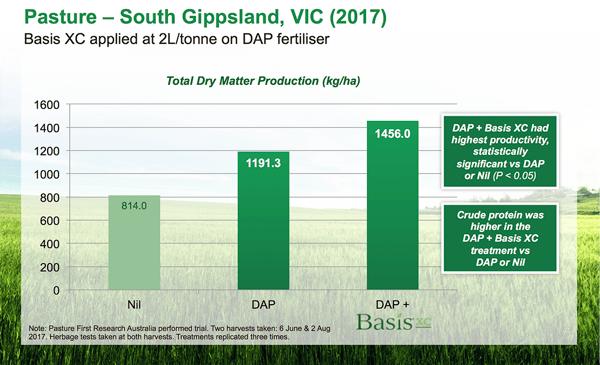 Pasture quality parameters were generally similar among the treatments at both measurement times, but crude protein was highest with Basis XC-treated DAP (30.8%; P < 0.05) compared to DAP alone (30.3%) or the nil control (30.5%).
Summary: Both DAP treatments increased pasture production over control, but treating DAP with Basis XC provided even greater pasture production than DAP alone.
As these two trials demonstrate, the use of Basis XC on granular fertiliser can help maximise on-farm fodder production. It should be considered by all graziers looking to get the most out of their fertiliser investment.
Learn more and see additional trial results by downloading our Basis XC pasture studies sheet.