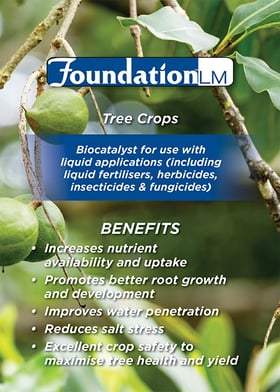 Foundation LM can be used to improve the performance of a wide variety of crops, including tree crops such as macadamias, apples and citrus.
Our tree crop booklet explains how the proven technology in Foundation LM helps tree crop growers get more out of their fertility programs by:
Mineralising nutrient sources to i

ncrease nutrient availability
Enhancing root growth and function
Facilitating nutrient uptake
Improving water penetration
Reducing salt stress
This digital booklet specifically covers:
How Foundation LM works
Product benefits in tree crops
Trial results in apple and macadamia trees
Protocols, uses and rates
Foundation LM is recommended for use both at bud break and close to fruit/nut fill for maximum benefits. It can be applied in orchards through drip and microjet irrigation systems, or via ground application through boom sprays.
Get the Foundation LM Tree Crops Booklet to learn more and to see the results in macadamia and apple tree crops.