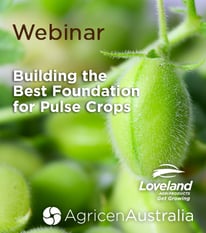 Pulse crop growers know that phosphorus mineralization is key for optimum crop performance. By using Foundation LM, they can increase the availability of phosphorus in the soil to build the best foundation for their crop.

Rhizobia use phosphorus to fix atmospheric nitrogen as ammonium nitrate (NH4). If phosphorus is being tied up or not being cycled as fast as the rhizobia need it, they can't work at an optimum level and they won't have the nodulation they should have.

When Foundation LM is used, more phosphorus is available in the soil for rhizobia to use. The rhizobia can then produce more NH4, resulting in higher yields. Foundation LM also increases root mass, providing more area for potential nodulation.

Watch our webinar, "Building the Best Foundation for Pulse Crops," to learn more about the benefits of Foundation LM for pulse crops and to see results from mung bean and chickpea trials in Australia.