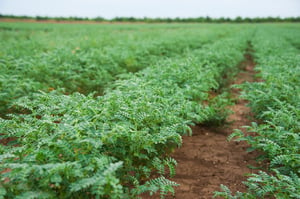 In winter 2018, an on-farm chickpea trial was conducted by Nutrien Ag Solutions Goondiwindi to evaluate the effect of applying Basis XC to starter fertiliser. The trial showed earlier crop emergence and higher chickpea yields when the grower's standard starter fertiliser (30kg/ha NPS Kote + 1% Zn) was treated with Basis XC versus untreated.
The greatest difference noticed in the crop throughout the trial was at crop emergence. The Basis XC-treated area had greater vigour, resulting in a higher plant stand. Root growth was also much more vigorous in the treated area, with a higher production of lateral roots and earlier nodulation.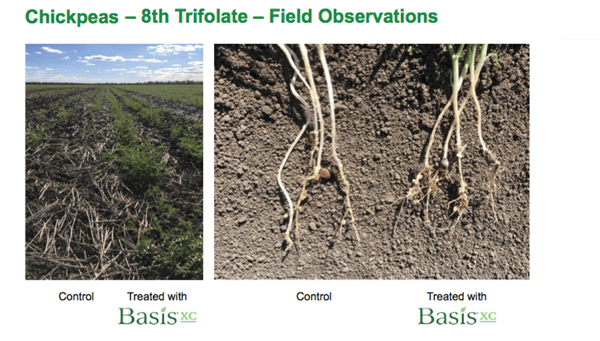 The higher plant stand in the Basis XC-treated area at emergence set the crop up for a higher yield potential, leading to a 5% yield increase (+59kg/ha), despite the crop receiving only 74mm of rainfall throughout the trial.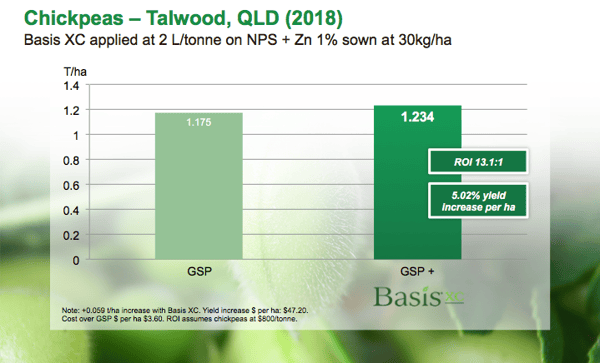 "We had a very dry growing season, receiving only 40% of our average rainfall. Early indications showed the Basis XC-treated areas outperforming the control areas until moisture became the limiting factor," notes the farm manager. "I was impressed with Basis XC. I think we would have had even more positive results from the product if we had a better finish to the season."
Tissue tests also showed better levels of nutrition in the treated area, especially micronutrients.
"Given the better root establishment in the Basis XC-treated area, the crop was able to access nutrition that the untreated area may have had limited access to," says Georgie Phillips, the Nutrien Ag Solutions agronomist who worked on the trial. "This added nutrition also assisted the crop to fill pods whilst under moisture stress from lack of rainfall."
Learn more about Basis XC by downloading the Basis XC cropping tech note.