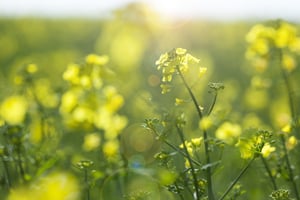 For thousands of years, the world regarded the act of growing a plant in the soil as a biological process. But—as in all systems—the need for scalability to meet growing demands called for new, more efficient technologies to improve food production. The agricultural advancements of the post–World War II era were nothing short of transformational in this respect. Worldwide, food production skyrocketed, owing to advancements including improved seed varieties, modernized irrigation, better control of plant diseases and pests, and increased use of chemical fertilisers.
In more recent years, we have realized that the gains achieved through the tools of the Green Revolution are not limitless. We have also realized that the intensity of agricultural production has some significant, long-term impacts on soil, air and water resources. These realizations have helped prompt a renewed interest in the biological elements of crop production. This includes the use of soil management practices meant to improve the conditions of the soil and the organisms that it harbors, as well as the development of new biological technologies meant to be incorporated into existing agricultural practices to enhance sustainability and increase yields.
In coming years, ag biologicals and biostimulants will play a key role in helping growers sustainably meet food demands, while also helping them remain economically productive. But, as a recent article points out, the current Australian regulatory environment for such products may need to evolve to help ensure that products are more rigorously tested in the Australian market, and that they can truly offer the benefits that they claim.
In addition to our own research, our relationship with Loveland Agri Products and Nutrien Ag Solutions has allowed us to trial our agricultural biostimulant products across Australia in a variety of crops, soils and conditions to show growers the economics and yield benefits of incorporating a fertiliser biocatalyst into their practices.
Learn more about biologicals and biostimulants for agriculture, including how Agricen Australia is playing a role, by accessing our "Growing for the Future" booklet.