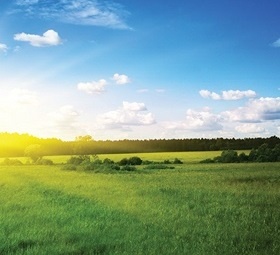 By using Basis XC with SSP fertilisers, graziers can speed up the release and utilisation of phosphorus and other nutrients in their pastures, which can equal more pasture growth.
"We did trials with a local grazier where we compared the quality of pasture spread with Basis XC-treated SSP versus untreated SSP," says Sam Graetz, Nutrien Ag Solutions Branch Manager at Lucindale, SA.
"The quality of the pasture from the treated area was far higher than the untreated in virtually all aspects, including metabolisable energy and protein, as well as much higher nutritional levels, resulting in higher potential stocking rates," he adds.

Pasture Trial Results
Tissue tests revealed that phosphorus and potassium levels in pasture in the Basis XC-treated areas were higher than in the untreated pasture, as were most trace elements.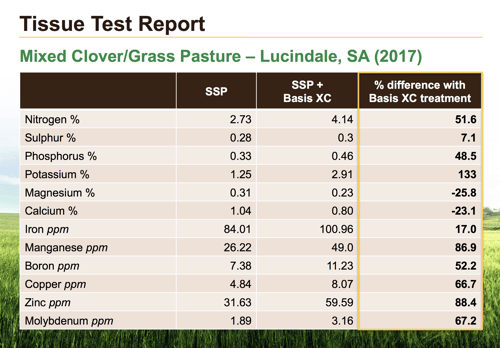 The feed analysis report from that pasture trial showed that crude protein, digestibility and metabolisable energy levels increased significantly in pasture fertilised with Basis XC-treated SSP, whereas acid detergent and neutral detergent fibre (ADF and NDF) levels decreased, resulting in higher digestibility and palatability.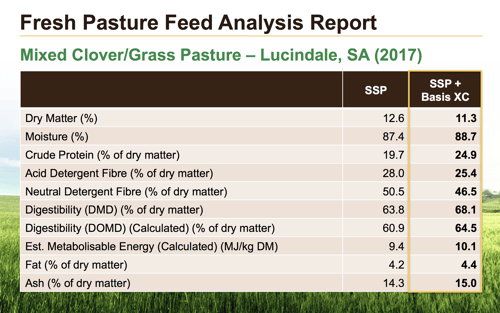 Formulated for direct application onto granular fertilisers, Basis XC helps to improve the availability of applied fertilisers, leading to more efficient nutrient utilisation. It contains a diverse range of beneficial biochemistries that let growers get more out of their applied P & K fertilisers.
By ensuring nutrients are released from treated fertilisers at a higher rate than untreated products, Basis XC makes nutrients more available to pasture plants. This is especially important early in the pasture growth cycle, when higher available feed levels are critical to early weight gain in livestock.
Better nutrient utilisation leads to more feed, higher quality and more profit for the grazier.
Learn more and see additional trial results by downloading our Basis XC pasture studies sheet.