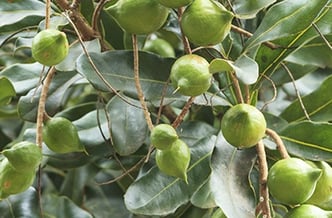 Macadamia nuts, with their health benefits and unique, delicious taste, are an increasingly important export crop for Australian agriculture. Native to Australia and grown in New South Wales and Queensland, the nuts have been commercially cultivated in Australia since the late 1800s.

Following in that long tradition, Paul Ryan grows macadamias on a 29-acre orchard with nearly 9,000 trees in Gympie, Queensland. Over the past few years, Paul noticed that the leaves on his once healthy looking trees were gradually yellowing. He reached out to Matt Kunde, an agronomist from Nutrien Ag Solutions Gympie, to help investigate the issue.

Testing showed ample nutrients in the soil, but low levels of nutrition and a severe magnesium deficiency in the plant tissues. As an essential component of chlorophyll, magnesium is vital for photosynthesis, and any deficiency can negatively impact tree health. Because the deficiency was likely due to applied magnesium being tied up in the soil, Paul trialled several different products to try to prevent the soil chemistry from locking up magnesium and other nutrients in the soil.

Having had no luck with the first few products, Paul then tried Foundation LM on Matt's recommendation. After just two weeks, Paul began to see a noticeable greening in his Foundation LM-treated block. As the deficiencies quickly subsided in his treated block while the untreated macadamia trees continued to struggle, Paul decided to treat the entire orchard with Foundation LM. Today, the trees are green and vigorous thanks to the power of the biochemistry in Foundation LM.

You can hear directly from Paul about his experience in this short video, below, and don't forget to check back in with us later this season to see how Paul's harvest went.


---
Access the "How It Works" overview to see how Foundation LM works to improve macadamia tree health and performance.