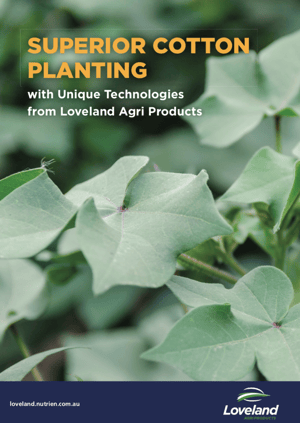 Australian cotton has a reputation for high quality and high productivity, boasting yields that are more than three times the world average. The Loveland Agri Products' range can help cotton growers maintain their leading edge and maximise their return on investment by setting the stage for a high performing crop early in the growing season.
The new Superior Cotton Planting guide focuses on three key Loveland products that can be used to enhance the growth and performance of irrigated and dryland cotton:
Foundation LM - a biochemical catalyst for liquid fertilisers
Radiate - a plant growth regulator technology
LoKomotive - a liquid potassium acetate formulation
These three unique technologies, which are typically used early to mid-season, can help improve nutrient availability, increase root growth and enhance plant vigour, resulting in a more efficient utilisation of nutrients. This equates to a healthier crop, a stronger plant and improved boll set—ultimately helping Australian cotton growers continue to achieve the highest possible yields and quality.
Download the guide to see how the unique technologies in Foundation LM, Radiate and LoKomotive can assist cotton growers in maximising their yield potential.