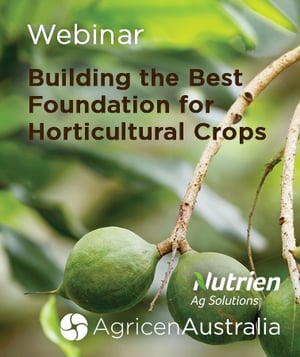 Our recent webinar, "Building the Best Foundation for Horticultural Crops," is now available to watch online. The webinar discusses agronomic practices that can help enhance horticultural production systems.
During the webinar, you'll hear from our guest speaker, Dr. Doris Blaesing of RMCG. Dr. Blaesing is a tree physiology and orchard management expert who provides an overview of soil health, root development, nutrient availability and water availability in relation to orchard crop nutrition.
You'll also hear from Dr. Brian Cornelious of Agricen, who explains how Foundation LM can help improve the performance of horticultural crops, including both permanent crops and short-season crops.
Watch the webinar to find out:
How to enhance horticultural production systems
The role of a strong root system & critical times for moisture and nutrient uptake
How Foundation LM can improve horticultural crop production by influencing factors such as nutrient availability, root development and soil conditions
Foundation LM is an innovative fertiliser biocatalyst, unique to Nutrien Ag Solutions, that is specifically formulated for use with liquid fertilisers, liquid in-furrow injection and fertigation. Foundation LM contains diverse biochemistry designed to both increase nutrient availability/uptake and improve crop performance.
During the presentation, you will hear more about the biochemistry in Foundation LM and learn how the product technology works. You will also see results from trials in a variety of horticultural crops (such as cherries, walnuts, grapes, broccoli and strawberries), including effects on root growth, soil salinity, crop uniformity and yield.
For additional information on Foundation LM in the horticultural setting, we invite you to access the Foundation LM tree crop booklet (featuring results from macadamia and apple trials) or short-season horticultural crop booklet (featuring results from potato, strawberry, broccoli and cauliflower trials).